I don't know about y'all, but I'm tired of being COLD. The weather is grey and yuck. My kids are sick with the yuck. I'm just ready for SPRING!!! I want to start my garden, and open my windows, and not wear 10 layers of clothing. But until then, even though the holidays are over, it is perfectly okay to warm your house with the comforting smells of....gingerbread! It's sugar and spice and everything nice :)
Cranberry Gingerbread Muffins with crystallized ginger and toasted walnuts
....oh yeah.
It all started because I spotted these babies at the grocery store -
They looked so inviting. Bright and pretty and begging to be bought. For which I obliged.
and the store was out of pomegranates.
I was thinking cranberry, ginger and white chocolate. Then I had visions of cranberry-orange (which is still weighing heavily on my brain). But then I decided on
this
recipe from Taste of Home. It sounded so warm and comforting. I just made a few
additions
.
Ingredients
2-1/4 cups all-purpose flour
*I used 1/2 whole wheat
1/2 cup packed brown sugar
2 teaspoons ground ginger
1 teaspoon baking powder
1 teaspoon ground cinnamon
3/4 teaspoon salt
1/2 teaspoon baking soda
1 egg
*I used Egg Beaters, b/c I knew Mr. Two wouldn't eat them anyway!
3/4 cup
water
orange juice
1/2 cup fat-free plain yogurt
1/3 cup molasses
1/4 cup canola oil
1/2 cup chopped toasted walnuts
1/4 cup chopped crystallized ginger
1 cup fresh or frozen cranberries, thawed and quartered
*I wasn't going to quarter each and every cranberry - so I threw them in my little chopper
Directions
In a large bowl, combine the first seven ingredients. In a small bowl, combine the egg,
water
orange juice, yogurt, molasses and oil. Stir into dry ingredients just until moistened. Fold in cranberries,
walnuts and ginger.
Coat muffin cups with cooking spray or use paper liners; fill 3/4 full with batter. Bake at 350° for 18-22 minutes or until a toothpick comes out clean. Cool for 5 minutes before removing from pan to a wire rack. Yield: 1 dozen
*I got 18 standard size muffins
------------------- ------------------------
I've decided what would make these muffins
perfect
would be a drizzle of cream cheese frosting, or even white chocolate.
But I don't need the extra calories.
I had to stash some muffins in the freezer to keep myself from eating them ALL, since my kids are soooo picky and wouldn't even try them. Silly kids.
How do y'all warm up in the middle of winter? I'm getting ready to fix me a latte and take girl Number Two to the doctor to see if she has strep. Fun times.
Check out other fabulous recipes and crafts at these Tuesday linkys....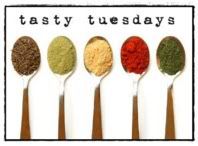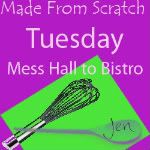 Eat at Home -
Ingredient Spotlight: Cranberries