How many people have made resolutions to eat healthier? Lose weight? Show of hands please. And how many people have broken their resolutions already? Wait...am I the only one with my hand still raised?! Yes, I vowed to not eat another cookie or sweet treat until I could fit back into my jeans. However....
This arrived on my doorstep. Gotta love the UPS man.
and Joanne from
Eats Well With Others
. It was her fabulous blog from which I won this little box of goodies. Now, I could have immediately put the boxes of cookies in the freezer. Or given them away (God forbid). But
due to my complete lack of self-control
I really wanted to share
Tate's Bake Shop
with my bloggie friends. If you live in NY, you may be familiar. The cookies were
divine
. Not that I did more than taste one (okay...FOUR)
So, due to my little splurge, I need to spend some extra time on the treadmill. and Wii Fit.
(Where is my balance board anyway?)
See, that's my attitude towards "dieting". If you 'fall off the wagon', then just get back on. None of the guilt or the F-it attitude that you might as well go ahead and do a full out binge since you ate some cookies. One cookie, or four, are a lot easier to work off than if you say, "well forget it, I've messed up now, might as well eat the whole box." (trust me, I was tempted). But no, I put the other boxes in the freezer and shared the open box with my kids (except for Mr. Two of course).
Speaking of me Mr. Two and his food allergies....I've told him so frequently that he couldn't have something b/c it has eggs in it that when I offered him a snack earlier, he said "No, it has eggs". Well, actually he said "no. eggs", but you know, Mama knows what baby is sayin' ;) I thought it was funny and sad at the same time. (It actually did not have eggs, he just didn't want it!)
So anyway, my post is getting long and I haven't even gotten to my point yet.
There's a point?!
Today I'm linking up with
Think Tank Momma
for Share a Spoon. And today's theme is....healthy eating for the New Year! Skinny recipes if you will.
So if you're visiting from Share a Spoon, I apologize for the cookie pics. I really do have some healthy options to share! Mainly, most of my recipes, with the exception of the hundreds of holiday treats I posted, are pretty "healthified". That's suppose to be the purpose of my blog, but I got REALLY distracted over the holidays. Really. Distracted.
So, take a look on previous posts if you will. Prior to December. I'd link them up on this post, but I've spent waaayy to much time on the computer already today.
However, I did want to show you this
Something this gorgeous has to be good right? Right.
It's
homemade yogurt
, sweetened with Stevia, and blueberries and pomegranate arils. Even if you are not a huge fan of yogurt, you should eat this. It's delicious. I also added a little Special K granola. Walnuts are good in it too. This bowl is so healthy it's ridiculous. You've got calcium, protein, lots of antioxidants, fiber, Vitamins A & C, iron...and I'm sure other stuff too. It's also very filling. And that's a big thing with me. If I'm starving, I'm gonna make poor choices. I'm trying to keep
the cookies in the freezer
low-cal, but nutrient dense foods immediately available so I can keep myself from getting nutso b/c I'm so hungry.
I have a giveaway going on right now that is a great way to help with those health related resolutions!! Check it out (and enter!)
here
I'm also doing some hopping....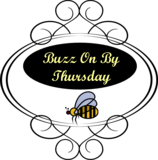 so if you're visiting for the first time....holla!