Do you always follow a recipe or do you just get in the kitchen and wing it? Me...I need a recipe. I will make changes, substitutions, etc., but I need a recipe to follow as a guide. When I get in there and just start making stuff up, well, the results are less than...uhm...well, edible. However, the other night I decided I was going to throw something together just for me. No recipe, no measurements, just throw it together. And the result was....DELICIOUS!! I was so
surprised
proud of myself! Of course, it wasn't anything complicated, it was like three ingredients. But hey, that's totally not the point :)
Since it was so yummy, I wanted to share it. But then I thought...I don't have a recipe. I can't just say throw some of this and some of that in a pan and do a little of this. So I did a search, just for y'all...and sure enough, my recipe is not all that original. Since I follow this blog, I have probably seen it in the past, and just forgot. Anyway, also not the point. The point is, this dish is simple, delicious and healthy. Yep, I actually ate spinach and tomatoes and enjoyed it! And what's even more shocking, is that when my girls saw what I was eating, they wanted to try it. Of course, only the tortellini...but they loved it too. So - I guess I'll be buying more tortellini. You can't go wrong with pasta and cheese.
Cheese Tortellini with Spinach and Slow Roasted Tomatoes from
Two Peas and Their Pod
1/2 Tablespoon salt-to add to boiling water
1 bag frozen cheese tortellini (16 oz. size)
*I used the tortellini from the pasta aisle
2 cups slow roasted tomatoes
*I used canned petite cut tomatoes, but roasted would be way better!
3 cups fresh spinach, washed and roughly chopped
Drizzle of olive oil
Fresh parmesan cheese-to taste
*I didn't add extra cheese b/c I haven't exercised in weeks
Directions-
1. Fill a large pot 3/4 full with water. Bring to a boil. Add a 1/2 T of salt. Stir in frozen cheese tortellini. Cook until tortellini floats to the top and is soft. Drain and put tortellini in a medium bowl.
2. Stir in the slow roasted tomatoes and spinach. Drizzle with olive oil and stir again.
3. Garnish with freshly grated parmesan cheese. Serve warm.
This is basically what I did, except I added my tortellini to the skillet where I had sauted my spinach and tomatoes and a small clove of garlic. Mixed it all together and YUM!! I can't wait to make this again! And I can't wait to have my garden!! Fresh herbs and veggies!! And it's supposed to be almost 80 degrees by the weekend
(unless I was dreaming early this morning when the weather was on!)
AWESOME!!!!
If you haven't been by this week, I have TWO giveaways going on, please enter!
Sahale Snacks (awesome nut blends with unique sweet and spicy combos) Ends 2/16!
General Mills - 5 free boxes of cereal with this one! Ends 2/23
For other tasty dishes and fun crafts, check out these lovely blogs.....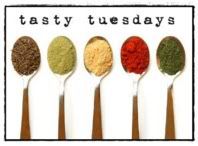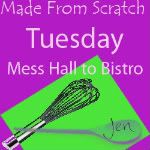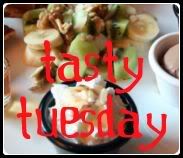 Tuesdays At the Table
And Tuesday Twitter hops!