When I bought my cranberries the other day, I had 2 recipe ideas floating around in my head...cranberry/orange, and cranberry/white chocolate. Somehow, I ended up making gingerbread cranberry muffins, which were awesome, but I still have the other things stuck in my head. So I decided to do something about it. Orange Cranbery Scones! I love scones. (Is there a bread I don't like?) I saw this recipe, and figured I could take it and substitute the cranberries and orange zest for the lemon and blueberry. And that's what I did...
Orange Cranberry Scones
You should check out the awesome pictures on her site!
1 cup whole wheat flour
1 cup cake flour
1 tablespoon baking powder
3 tablespoons
brown
sugar
1/8 teaspoon salt
4
tablespoons cold
unsalted butter
Smart Balance 50/50, cut into tiny pieces (1/4 inch or smaller cubes)
zest of one medium sized
orange
(about 1 tablespoon)
3/4 -1 cup
cranberries
1/2 cup plain 0% fat greek yogurt
*I only had regular plain yogurt, so I reduced my milk a little
1/2 cup skim milk
*I added the juice of my orange I zested, then added skim milk to make a little less than 1/2 cup
Directions
Preheat oven to 425°.
Combine flours, baking powder, sugar and salt in a bowl and mix until well blended.
Add butter to dry ingredients and mix until butter is spread throughout.
Add cranberries and orange zest and gently stir.
Gently mix in milk/juice and yogurt until you're able to switch to kneading it with your hands.**
Form dough into an 8 inch circle and cut into eight slices.
Separate slices and place on a silicone mat covered baking sheet
Bake for 15 minutes or until light brown.
**My dough was too sticky to knead, and I had to add more flour (maybe a 1/4 cup?). I think it's probably due to the changes I made. The regular yogurt is thinner than greek, so maybe I should have reduced my milk even more.
I was worried these were not going to turn out, and they are not the most beautiful scones, but they ended up being really good! I added a drizzle of orange juice with confectioners sugar on top, b/c cranberries are pretty tart. It just depends on how sweet you like things. Of course, I had to banish some of them to the freezer to prevent me from eating them all. I'm going to end up with enough baked goods to feed a small village stored in the freezer!
However, to everyone's surprise, I have a NON-bread item to post later in the week :) One can not survive on bread alone. Okay, I think I probably could, but my husband is diabetic, so he really can't! Mr. Terrible Two has become a bread junkie too. He's on a cinnamon toast kick right now, so he is constantly saying (ALL DAY LONG) "I want toast!" (except it sounds like "i wan toes!").
**Mo'Betta's version of cinnamon toast - toasted whole wheat bread with a little spray butter and a light sprinkle of cinnamon sugar ;) It can't be too bad for him!
Check out other fabulous recipes and crafts at these Tuesday linkys....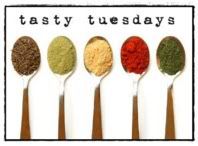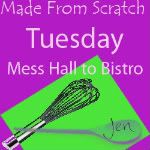 Also linking up for Ingredient Spotlight - Cranberries at
Eat at Home