mmmm, molasses. I think it's a Southern thang. I remember visiting my great-grandmother, who baked homemade biscuits
everyday
(and always had lemon drops candy in her candy dish), and she would sit me down at her kitchen table with a plate of biscuits and molasses. That was some good stuff! My great-grandparents ate biscuits, gravy, fatback, and bacon on a regular basis. Granted, my grandmother passed away with heart disease, but she was 84. My great-grandfather lived to be 98. NINETY EIGHT years old!! Of course, they also spent their days working. Labor intensive work. They had a HUGE garden, their own smokehouse, no computer. They worked hard. It would be interesting to see how their generation's HDL and LDL (cholesterol) levels compare to ours today. Anyway, this really has nothing to do with my post, other than giving you background on my love for molasses. Which I'm sure nobody is all that interested in. Moving on....
Isn't it pretty? So dense and hearty looking. I find it attractive anyway.
because I'm a little weird like that.
As you know, I love my bread, and we've already established my love for molasses. So, when I saw
Whole Wheat Molasses Bread
at Joy the Baker, I immediately printed out the recipe.
Ingredients
-
1 2/3 cups buttermilk or plain yogurt
*I added a tablespoon of vinegar to skim milk and let it sit for the buttermilk. Can you believe I was out of yogurt! Absurd, I know.
2 1/2 cups whole wheat flour
1/2 cup cornmeal
1 teaspoon salt
1 teaspoon baking soda
1/2 cup molasses
Place a rack in the center of the oven and preheat oven to 325 degrees F. Grease and flour an 8×4 or 9×5-inch loaf pan. Non-stick baking spray works well too.
In a large bowl, whisk together flour, cornmeal, salt and baking soda.
In a small bowl whisk together buttermilk or yogurt and molasses.
Pour the wet ingredients into the dry ingredients and fold to combine. The batter will be slightly thick, but not dry. Spoon batter into prepared pan and place in the oven. Bake loaf for 45 minutes to an hour.
Depending on how evenly your oven bakes, you might want to rotate the loaf in the middle of baking.
Be careful though. Don't manhandle it too hard or it might deflate.
**This is important! I turned my bread after abt 30 minutes, but should have done it sooner. I ended up with one spot that did not get done. I haven't had that happen before.
Stupid oven
.
When a skewer inserted in the center of the loaf comes out clean, remove the loaf from the oven and allow to cool for 20 minutes in the loaf pan. Run a butter knife along the sides of the pan and carefully invert onto a wire rack.
This bread has a unique flavor. It's hearty and dense, but just slightly sweet with the hint of molasses. I love the texture with the cornmeal. It's kind of like bread I've had at steak houses. My kids weren't crazy about it, but warm bread slapped with a little butta...mmmm, good to me :) Joy the Baker suggested Nutella with hers. See why I love her?! Or, you may be inclined to make french toast out of it the next day. Top it with cinnamon. and maybe more molasses. Yeah, I went there.
For other tasty dishes and fun crafts, check out these lovely blogs.....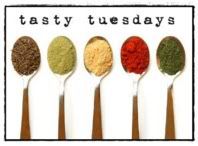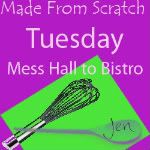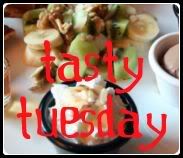 Tuesdays At the Table
And Tuesday Twitter hops!