Weekend before last was all about new beginnings. I attended a beautiful wedding of a young couple, watching them join their lives together. This weekend was about endings. My 88 year old grandfather passed away late Thursday night, and we layed him to rest yesterday. It's always hard to be reminded that with life, comes death.
However, I do not want this to be a sad post, I want to share more from the luncheon I posted about last week, when I shared the
Dark Chocolate Chocolate Chip Bacon Cookies
! We all know food makes me happy. I did not take many pictures of the food (I know! Crazy!) but luckily, there were a couple of other bloggers in attendance :) As I've already posted, we had little mason jars filled with the cookies as favors. For appetizers, we had
pimiento cheese
tartlets,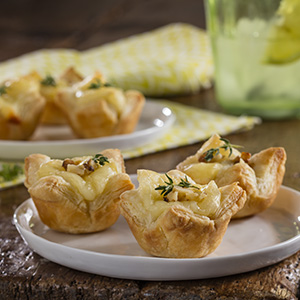 (
via)
Picture these with pimiento cheese!
pimiento cheese with crackers,
Paula Deen's photo
, and very good recipe!
and
'pickle rolos'
(my sister's name for them)....these have been around forever and were a last minute addition to the apps, and I have to say they were a huge hit! They have different names all around the web, and some people wrap them in different kinds of meat, but essentially it's some form of meat (we use dried beef), layered with cream cheese and wrapped around a pickle, then cut into bite size pieces.
We do love our pickles.
Beverages - lemonade, sweet tea, and peach mimosas - yum!
And the main event - my mom's chicken salad (it's her own special recipe that I've been unable to duplicate), pasta salad with fresh veggies from our gardens,
watermelon and feta salad
(with the addition of fresh basil and balsamic vinaigrette instead of plain balsamic vinegar), BLT's on mini croissants with basil mayonnaise. It was all delicious!
We added mint to our kabobs and had chocolate sauce for drizzling.
And last, but not least....a classic
Served with a dollop of whipped cream and fresh blueberries! Of course, I dumped some chocolate sauce on mine ;)
It was a lot of fun and putting this post together has made me seriously hungry!!