This is a Sponsored post written by me on behalf of Sharper Image for SocialSpark. All opinions are 100% mine.
Christmas Day may be over, but it is very possible that some of you out there are still searching for the perfect gifts. I know a lot of people have to spread out their family get-togethers over several days, in order to see and spend time with everyone they would like.  OR you may be like me, and have birthday presents to buy immediately following Christmas!!  Yes, in 3 weeks, I have a child with a birthday. Not just any birthday either, but her first DOUBLE DIGITS birthday!  So needless to say, this birthday is highly anticipated.  So...what does any of this have to do with Sharper Image?!  Well, Sharper Image is a website and catalog (only) business (since 2008) where you can easily research and purchase their latest products. The great thing about their site is you are able to do extensive product searches, watch informative video clips,  conveniently track your orders; and have access to real time, toll-free customer support and company related information.  However, my favorite thing is the customer product reviews and rankings.  I find these very helpful when purchasing a product or brand that I am unfamiliar with.
If you are not familiar with Sharper Image, you may be wondering what kinds of things are available.  So I thought I would share some of my "must haves". They would make great holiday gifts, whatever the holiday or occasion!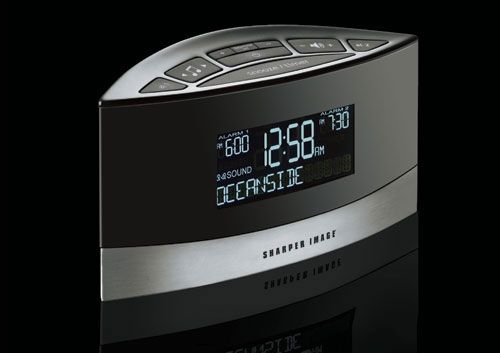 This Sound Soother is so awesome.  Imagine....falling asleep to the sound of gently falling rain, or maybe the sounds of a bustling city are more your speed?  Either way, the Sound Soother White Noise Machine has something for everyone.  Not only does it make all kinds of sounds, it also comes with dual alarm settings, and can also be your alarm clock. It also looks great, has an extra large display for sound description and digital time, and resets itself after a power outage and daylight savings time.  It is pretty great, so much so, that it is currently sold out! Keep a check to see if they get anymore of these in, b/c they would make a great gift (for yourself or someone else!)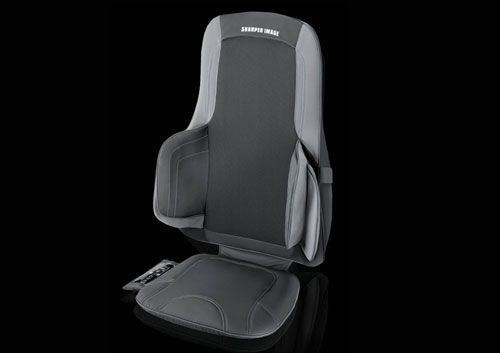 And hellooo?!  Yes please to this Back Massager!  Turn any standard chair into a deep-kneading shiatsu or rolling massage! How incredible does that sound?!  It has four independent rollers that travel up and down your back and you can use Spot Shiatsu and Perfect-Fit™ to customize the massage to your back and height. Soothing heat is also an option for a deeper, more relaxing massage. With all the hustle and bustle of the holidays, I so need one of these!  It even comes with a carrying bag so you can take the massager wherever you go.  Too work maybe?!  That would make the workday a little better!  It also received 4.1 out of 5 stars by reviewers! Nice.
This Bluetooth Speaker is also great for all the music lovers in your life.  This would be great for either one of my girls, who can not be without their tunes for more than a few minutes.  This is big enough for a great sound but small enough to take on the go.  It is great b/c it connects wirelessly to smart phones, laptops and most notebooks, up to 30 feet away! Since my oldest just got a cell phone for Christmas, the bluetooth hands free conference calling with any smart phone is a feature I'm sure she would love.  
So what about y'all?  Which products do you like best?